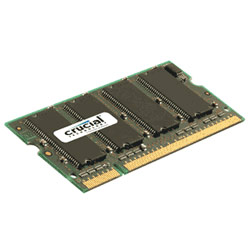 My physical memory is starting to fail but it's a good time to buy laptop memory. 🙂
I bought two 2 GB sticks which after rebate will hopefully work out to about $31 each. Previously I bought a Crucial 1 GB stick for about $12.
Now my MacBook and ThinkPad T60p have 3 GB each. And I don't notice any difference at all in performance except maybe Firefox doesn't bring Windows to its knees as quickly because of its ravenous memory consumption.
By the way the instructions for installing memory on the MacBook weren't that bad, only three screws to replace though pushing in the memory sticks felt a little weird since you can't see where they're going.
On the ThinkPad T60p there are five screws to remove and then you have to lift off the palm rest. But the memory brackets pop up nicely and are easy to use. This blog article has nice photos of how to do it.