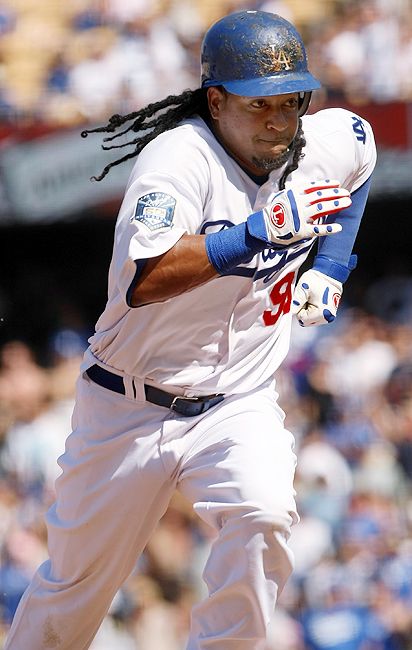 Bill Simmons, my favorite sports columnist, wrote this 9000 word column, Manny Being Manipulated.  Instead of doing things like spending time with my children I read the whole thing and loved it. Bill's theory is that Manny is not a bad guy and that he was manipulated by his evil agent, Scott Boras, to dump on the Red Sox and stop playing. But while Vince Carter is evil for quitting on his team, Manny isn't because of other evidence
I think Bill is right and I want to believe him.  I am finding myself rooting for Manny and I rarely felt that way for Vince (okay maybe a few times but he looks so bad in his Nets uniform while Manny looks fantastic in his Dodgers uniform).  Manny is hitting like Ted Williams, his new teammates seem to love him and he has that playful exuberance that I last saw in a young Roberto Alomar.  On the other hand Vince Carter still plays like it is such a chore playing basketball for a living.  Obviously I'm not over Vince Carter, I gave him my heart and he left me and went to New Jersey.
Anyway I found the following quote from Bill Simmons rang true with me.
You love sports most when you're 16, then you love it a little bit less every year. And it happens because of things like this.
I hope Manny resigns with the Dodgers.  But I agree with Bill Simmons that he will lead the Dodgers to the World Series and then sign with The Former Evil Empire, the Yankees.