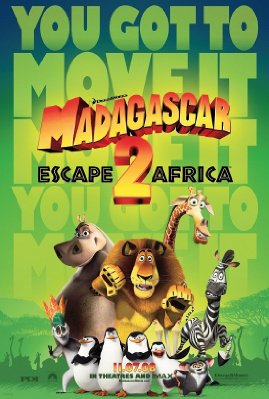 On Saturday, November 22 our realtor, Rainmaker Properties, hosted a client appreciation event at the local theater featuring Madagascar 2.  This was the first time for Victoria, Isaac and Dylan to see a movie at a theater.  And I think it was the first time that I had seen a movie in a theater since Dylan was born over five years ago.  Ji Seon recently got to see a movie at a theater during a women's night out but before that I think the last time was also before Dylan was born.
We arrived right at 10:30 AM as the invite said and realized immediately our mistake.  The theater was already almost completely full and we ended up sitting in the second row.  I ended with a sore back from looking up at the screen.
Lunch was hamburger and hot dogs with cookies and chips.  There was a raffle and we are hoping to win the 32″ LCD TV. 🙂
We were wondering how the kids would do because normally they don't like watching movies, they find them a little scary.  They prefer more innocent fare like Dora, Cyberchase, Sid the Science Kid, Dragon Tales, and Raggs.  Dylan did just fine though he sat on my lap at the beginning with Isaac.  Isaac found some of the parts scary.  Victoria was not happy at all with being in a dark theater and Ji Seon had to take her outside and strolled her until she slept.  Isaac later left me to look for Ji Seon.  And at the end of the movie Victoria woke up so I took care of her while Isaac and Ji Seon returned to catch the last ten minutes.
Overall though it was a good time and I thoroughly enjoyed the movie.  Isaac and Dylan loved the song "I Like to Move It, Move It" and you will sometimes hear Isaac singing it.