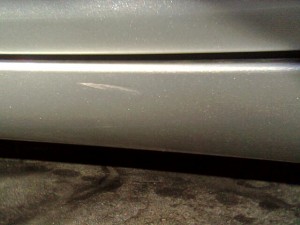 We went to Costco to look at possibly buying an LCD HDTV.  The model we wanted was sold out so I returned the flatbed shopping cart to the cart return area.  As I normally do when I near the cart return area I pushed the cart towards it like it is a sporting event instead of gently, intelligently pushing it all the way back.  Unfortunately I had no idea that flatbed shopping carts cannot be pushed like this.  Instead of wheeling straight into the cart return area it suddenly veered off and headed towards a parked minivan.  I tried to stop it but not before it left a small 2″ scratch on the bumper below the driver side sliding door.
Wanting to do the right thing, I left a note for the owner of the minivan.  Ji Seon was worried because this minivan was brand new, it did not have a scratch on it.  I was hoping that even if we did had to fix it the cost would be between $50 to $100 since it was just a small scratch.
Yesterday the owner called me and said he got two estimates and they were between $650 and $850!  The high cost is because the industry standard is to pull out the whole bumper before reparing it.  I called back one of the body shops and they said they could do it without pulling out the bumper but the cost would still be between $200 and $300 and that they would not warranty the repair.
This is a pretty expensive lesson.