Having lived here in the Bay Area for over a year I find myself often being surprised by the flora and fauna of this area.  In particular I have enjoyed bird watching here.
One of the first birds that amazed me was the hummingbird.  I had never seen one before and I was fascinated by these small birds that dart and hover around so quickly, not unlike how insects fly.  Here is a photo of a Sunnyvale hummingbird from Flickr.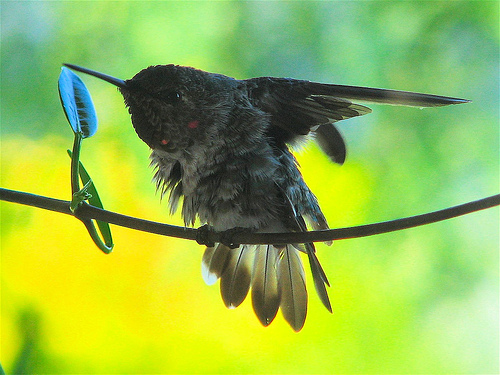 HummerPreen by oskay
In September when I was walking with Dylan to the San Jose Children's Museum I saw an egret in the Guadalupe River.  I was so excited as I shouted and pointed it out to Dylan that the bird flew away.  I just could not believe such a large and majestic bird lived here right in the city.  Below is a photo I found on Flickr of possibly the same egret.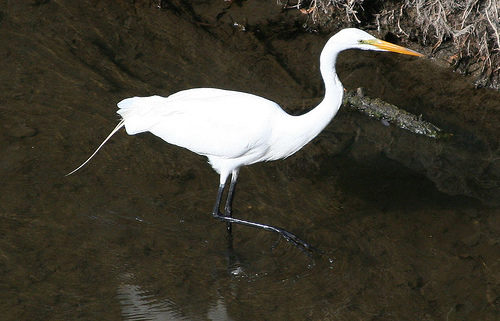 A few weeks ago I watched a peregrine falcon swoop into my backyard and rest on the fence.  Again I was amazed at this large bird of prey just sitting a few feet away.  The falcon was my favorite bird when I was growing up because that was the name of my school intramural team.  Here I found a photo on Flickr of possibly the same falcon.
Peregrine Falcon Sunnyvale by gimlack
Recently I was visiting Las Palmas park with Dylan and Isaac.  There was a group of birds flying around and making an incredible commotion.  At first I assumed that it was your typical small birds but when the group swooped into a small tree I was able to observe that they were parrots.  They are green and incredibly noisy.  As I watched them chew on the branches I wondered where they came from since I had never seen them before.  Here is an article about these parrots, called mitred conures.  This article, which is about ten years old, says these parrots "likely started as escaped or lost pets."  Again Flickr provides an astounding photo.