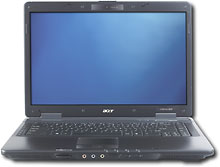 Many months ago I complained about my horrible experience buying an Acer laptop with Best Buy.  I took my complaint to the Better Business Bureau and Best Buy finally responded by offering me a $50 gift card but refused to let me return the faulty laptop.  Not surprisingly someone else had a terrible experience with Acer and Best Buy and was treated pretty poorly until a big third party, in this case the San Jose Mercury News' Action Line, assisted.
I was also having problems with an Acer LCD monitor I purchased from Office Depot.  After complaining to the Better Business Bureau Office Depot offered to let me return it.  When I realized the problem had to do with my laptop's graphic cards (only the MacBook can properly drive it) I kept the monitor.  I appreciate Office Depot's gracious response, unlike Best Buy's.
All of these experiences have led me to to these conclusions.
Buy big ticket computer items only from Apple or Costco.
If you are having a problem with a retailer seek help via the Better Business Bureau.