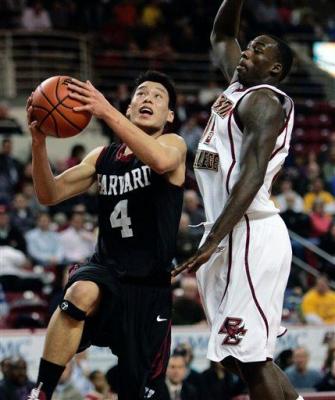 A local kid who I am assuming is Chinese, Jeremy Lin, led Harvard to its first upset ever of a ranked team, Number 17 Boston College which had just upset Number 1 UNC.  I saw the highlights of this upset on ESPN SportsCenter and at the time I was wondering why they were showing highlights of a Harvard game until I realized the significance of the upset.
I've read about Jeremy Lin a few times in the local newspaper since he's from Palo Alto.  Today's article wonders why Lin did not choose Stanford or Santa Clara but I think most Asian parents would prefer their child go to Harvard.
According to his Harvard Bio, Lin enjoys going to church.  I wonder which Boston area church he attends.
Jeremy Lin, the Harvard point guard from Palo Alto High, was the talk of college basketball Thursday. The previous night, the Crimson beat a ranked team for the first time in school history, dropping No. 17 Boston College 82-70.

The 6-foot-3 junior had 27 points, eight assists, six steals, three rebounds and two blocked shots … USA Today titled a blog entry "Meet the man who beat Boston College."

It's all enough to make one wonder why Lin's career didn't continue in the Pac-10 (ahem, Stanford) or West Coast Conference (ahem ahem, Santa Clara)…

Palo Alto's Lin makes Harvard the talk of the nation – San Jose Mercury News.