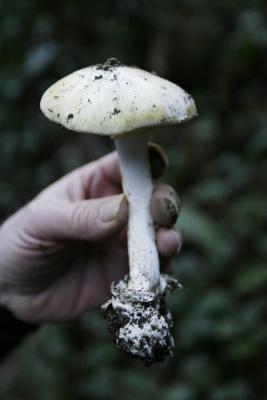 Seven days ago on January 7, 2009 the San Jose Mercury News published an article titled The wild side of mushrooming.  It was an interesting article about how wild mushroom harvesting is not regulated and how difficult it is to distinguish between edible and poisonous mushrooms.  The most dangerous mushroom is the death cap mushroom which resembles one of the more desired edible wild mushrooms.
Today in the San Jose Mercury News there was a related article, Again, Santa Cruz doctor helps save family who ate poisonous mushrooms.
A woman and her twin 11-year-old grandsons had eaten soup made from deadly mushrooms they picked in the woods. Dr. Kent Olson of California Poison Control was on the line, asking how to contact the German company that makes a drug used to treat death cap mushroom cases in Europe …

Then the Munich pharmacist called with bad news. The first plane departing Frankfurt was sold out. The next flight would depart four hours later and arrive in San Francisco as rush hour traffic began.

Mitchell worried the special delivery would arrive too late for the twins, who were sicker than their grandmother. So he went to work explaining to Lufthansa why the stakes were high. After 15 minutes, he got a seat for the courier on the earliest flight.

But when the drug arrived — with expenses paid for by Madaus — there were only 14 vials rather than the 18 Mitchell had expected. Who would get what?

Doctors decided to treat the twins first because of the higher mortality rate in children.

By the next morning, both boys improved, allowing what remained of the drug to be given to their grandmother. She recovered and was discharged three days later. Her grandsons left the hospital eight days after ingesting the poison.

Another transglobal success story — that maybe next time won't be so hectic.