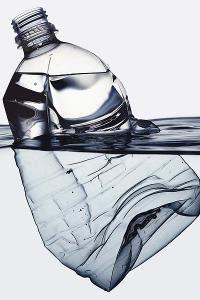 Here is an article I read two years that started my questioning the whole bottled water industry.  Before I just did not care for it much because I was too cheap to buy it. 🙂
Meanwhile, one out of six people in the world has no dependable, safe drinking water. The global economy has contrived to deny the most fundamental element of life to 1 billion people, while delivering to us an array of water "varieties" from around the globe, not one of which we actually need.

And in Fiji, a state-of-the-art factory spins out more than a million bottles a day of the hippest bottled water on the U.S. market today, while more than half the people in Fiji do not have safe, reliable drinking water.

In San Francisco, the municipal water comes from inside Yosemite National Park. It's so good the EPA doesn't require San Francisco to filter it. If you bought and drank a bottle of Evian, you could refill that bottle once a day for 10 years, 5 months, and 21 days with San Francisco tap water before that water would cost $1.35. Put another way, if the water we use at home cost what even cheap bottled water costs, our monthly water bills would run $9,000.

Taste, of course, is highly personal. New Yorkers excepted, Americans love to belittle the quality of their tap water. But in blind taste tests, with waters at equal temperatures, presented in identical glasses, ordinary people can rarely distinguish between tap water, springwater, and luxury waters. At the height of Perrier's popularity, Bruce Nevins was asked on a live network radio show one morning to pick Perrier from a lineup of seven carbonated waters served in paper cups. It took him five tries.

We pitch into landfills 38 billion water bottles a year–in excess of $1 billion worth of plastic.

Message in a Bottle – Bottled Water – Luxury Water – Mineral Water | Fast Company.