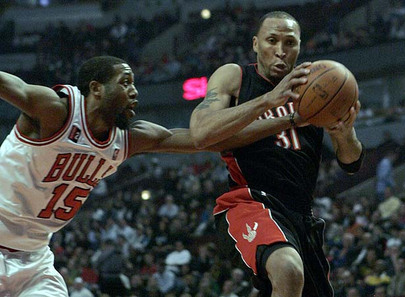 The Raptors season ended on an up note as they beat a Chicago Bulls team that should have been motivated to win.  Doug Smith of the Toronto Star has an interesting blog article with his take on the three most significant wins and losses of the season.  I remember all of them except for the loss to the Thunder.  I especially remember that horrible loss to Vince Carter and wondering that night why Vince Carter seems to only try against the Raptors.
These are my thoughts as the Raptors season closes.
One move the Raptors might consider is trading Bosh but I am not sure what we need.  Amare Stoudemire would be nice but I still like the idea of Bargnani moving to power forward which won't happen with Stoudemire.  I think what would be ideal is trading for a shooting guard that can shoot three's, create his own shot, drive to the hole, and get lots of free throws.  You know, someone like Dwayne Wade.  Of course we won't be getting Dwayne Wade but interestingly enough Ben Gordon is a free agent.  Unfortunately Ben Gordon has a reputation of being selfish.
If we did trade Bosh then getting a center that rebounds and plays defense would be a great move.  I think the Polish Hammer, Marcin Gortat, would be great but he's a restricted free agent.
Looking at the list of free agents in 2009 I see Kwame Brown who I actually think is very good, great rebounder.  Jarrett Jack is a restricted free agent and a shooting guard, maybe he could help the Raptors.  Lamar Odom is an unrestricted free agent and I think he's amazingly talented.  He probably wants out of LA since he doesn't start there.  Charlie Villanueva is a restricted free agent with a lot of talent and he probably hates playing under Scott Skiles.  Same for Ramon Sessions who could help the Raptors except he can't shoot three's.  David Lee is awesome but he wants to stay in New York.  Ike Diogu will probably make more money this offseason just because of his last two games.  Paul Millsap is a beast but Utah will probably try to keep him.
Maybe we should keep Bosh, sign Marcin Gortat and Ben Gordon and Shawn Marion, and make a run.  That's still not a team that can win it all though and I am not sure the Raptors can afford Gordon.