There were a lot of holes that I suddenly had to fill as the playoffs commenced.  In the first round, the semi-finals, I was matched up against Kwang's team, which was the strongest team because of his shrewd late season pickup of Lamar Odom and his earlier fantastic pickup of Rajon Rondo.  Kwang grabbed Lamar Odom before I had a chance but in the case of Rajon Rondo I was being lazy, I should have gotten him off waivers.
I looked at the statistics and realized there was almost no way I could win.  Since he owned Dwight Howard I figured I could win free throw percentage (FT%) and with Calderon, Kidd and Wade I was confident I could win assists.  Normally I do well in field goal percentage (FG%) and rebounds but against his team I knew it would be almost impossible to beat him in those categories.  Therefore I tried to picked up a lot of guards to win three pointers and steals.  I was also hoping to win blocks by adding Ronny Turiaf and Chris Andersen, two block masters.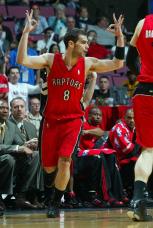 Just a few days in I realized I had to abandon blocks because Ronny and Chris weren't doing it for me while Odom and Howard were blocking everything.  The funny thing was the day after I dropped Chris he got six blocks.  I decided to go after three points completely.
However it turned out that Kwang was better at picking guys who can shoot three pointers.  His big pickup was J.R. Smith who had burned me several times but was on fire throughout the playoffs.  I picked up O.J. Mayo whom Kwang dropped but he sucked for me.  Of course after I dropped O.J. Mayo he played great in the finals against me.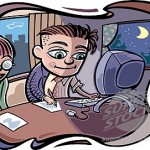 By the last weekend of the semi-finals I was behind Kwang by so many three pointers that I was resigned to defeat.  Then on Friday at midnight I suddenly had an eureka moment.  When I saw Kwang drop Jermaine O'Neal and pick up the last good three point shooter I realized he had no rebounders left except Lamar Odom and Dwight Howard.  Dwight Howard, fortunately for me, had no games scheduled for the weekend and Lamar Odom had only one.  Kwang was ahead of me by about 70 rebounds so I am sure he wasn't concerned that I could catch him.  But I realized that if I completely turned over my lineup Saturday just before lineups were to be locked that I could gain significant ground on him.
For the next few hours I figured out who the best rebounders were that were available.  Then I sent a long email to Paul Kahn with instructions about what to do because I was going to be on the road on the way to Legoland.
At 1:40 PM Paul completely revamped my lineup, changing it from three point shooters to rebounders.  The first game was at 2 PM and I did this at the last minute hoping that Kwang wouldn't notice and change his lineup.  At 2:01 PM I had Paul then change my lineup, grabbing all the good rebounders available for Sunday and even putting a couple of good ones on my bench so Kwang couldn't get them.

I expected at the end of Saturday's games to be still down by 20 rebounds but I ended up passing Kwang and almost catching him in FG% (thank you Jeff Foster for grabbing 18 rebounds).  Saturday night Kwang changed his lineup to have only rebounders but it was too late because the guys he picked up weren't as good.  Sunday I continued to beat him and even passed him in FG%.
Kwang's team really was better than mine.  It was quite a chess match as we made moves back and forth throughout the week to try to beat the other person.  In the end I had the last move, it was acutally like two moves, which is why I won.
I am never doing H2H again.