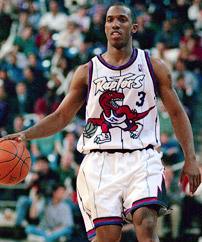 This article, The Disposable Superstar, about Chauncey Billups is really great.  I do think he's getting a little too much credit for how well the Nuggets are playing.  The Nuggets I believe only won five more games than last season.  Nene has been one of the top centers, Birdman has been fantastic off the bench and Carmelo Anthony and J.R. Smith have improved.
However the fact is what he has accomplished is quite impressive.  I think my admiration for him might override my disgust for Kenyon Martin.  Of course it figures my Toronto Raptors gave him up for nothing.
It is nice also to read about what an influence his father had on him, how he drove him to every game and played an important part in his life.  Inspires me a bit to keep trying more with my children.  Here is a photo of the championship ring Chauncey sent to his father.
No one is more appreciative of Ray than Chauncey, and he wants to do something for him. So, months later, a box arrives in the mail at Poplar Street. Inside the box is a ring, a Pistons championship ring, just for Ray.

He puts it on his finger … and then stops to read the engraved inscription, on the side, near the gold:

Billups: The Right Way.
Another interesting thing is how Kevin Garnett and Sam Mitchell were big influences in his life.  Kevin Garnett, though I dislike some of his tactics against opponents, really has to be applauded for how he treats his teammates.
KG, his old buddy from the 1995 McDonald's All-American high school game, is recruiting Chauncey, relentlessly. He wants Chauncey to sign in Minnesota, and to entice him, he invites him to his Minneapolis home. On the wall in the cellar is a poster. It reads: The Billups Suite…

Chauncey thanks McHale for being frank and accepts the Pistons deal, his sixth team in five years. Mitchell almost cries when he hears the news, but Chauncey thanks him and Brandon for making him a point guard. Then, in the Billups Suite, Chauncey and KG share a goodbye embrace.
Finally I think I am just drawn to Billups because of how much his teammates have loved him. Here is how his closest Pistons teammates reacted to the trade.
They keep talking about games, moments, shots. Hamilton has always told Chauncey he wants his toddler son to someday marry Chauncey's toddler daughter, and he brings it up again…  It goes on this way for three incredible hours that Chauncey says, "I'll never forget. We were, 'Wow, wow,' in disbelief. Just coming to the realization it was over.'"

Eventually, Chauncey tells them he has a flight to catch, and he walks out the door. The three of them enter the elevator, and Chauncey pauses to give Hamilton a last hug.

Hamilton breaks down, sobbing. Absolutely sobbing.