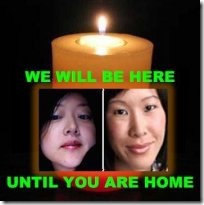 Lisa Ling is going to speak out on June 1 to increase public support for her sister, Laura Ling and Euna Lee.  They were captured on March 19 by North Korean border soldiers and have been detained since.  Their trial is on June 4 and all of us are praying that they will be freed and not used as pawns by the immature and reckless North Korean government.
This is Lisa Ling's message sent to the Detained in North Korea Facebook group.
Our families have decided to go public. The girls' trial starts June 4, we must get the message of diplomacy out. We'll start with the Today Show Mon (June 1) morning, Larry King, Nightline Mon night. Anderson Cooper during the week as the trial begins. Please help us spread the message. Thank you.
Schedule of appearances of Lisa Ling:
Monday June 1st
The Today Show (NBC)
the 7AM block on Monday morning.
Monday June 1st.
Larry King show (CNN)
9pm (EST) l 6pm (PST)
Wednesday, June 3rd
Anderson Cooper
Lisa has also just started a petition of her own. Please take a minute to sign this online. It's very user friendly and extremely important. A click of the mouse makes all the difference in the world.
**** NEW ON-LINE PETITION GOING TO THE U.N. ****
Please click on the link and sign the petition to help Laura Ling and Euna Lee.
http://www.thepetitionsite.com/1/free-euna-and-laura
If you are on Facebook, you may keep up to date with activities regarding Laura and Euna on the following group page:
http://www.facebook.com/profile.php?id=688331732&ref=profile#/group.php?gid=60755553149&ref=nf
Please pray for Laura Ling and Euna Lee.  They were so courageous to attempt to reveal the plight of North Korean refugees.  Pray that all of this will be used for God's glory and not only will Laura and Euna be freed but so will all North Korean refugees.