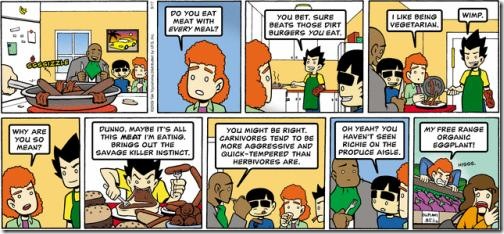 Vegetarianism is sometimes denounced as not masculine.  But I will go on public record that I am sort of vegetarian. 🙂
I have considered this lifestyle change for several years, being inspired by friends (Esther, Roger and John) and recently doing more research via blogs and books.  Ji Seon remarked after I made my decision that she was wondering when I would.
My exact label would be "minimal meat eater who only eats humanely raised meats."  But since there isn't a technical term for that I usually find myself fumbling to describe my dietary lifestyle.  Saying I am pescetarian, i.e. a vegetarian who eats seafood, might be more accurate but people often don't know what that is.
In public  I end up being effectively vegetarian because I don't really want to ask if the meat is humanely raised because most likely it is not so I just eat the veggies.  This proves especially difficult at barbecues like the Mother's Day barbecue the men in our small group did for their wives.  The organizer bought filet mignon steaks, which I love, and did not realize I just made this lifestyle change.  I did appreciate very much his sympathy.
The truth is I am still eating meat almost every meal at home.  We still have all this grass fed beef I bought in January which at least was humanely raised.  Also a good friend and avid fisher keeps giving me a large portion of the fish he catches, which I am quite grateful for.  Plus my wife and children are not vegetarian.
I consider this time a transition time for me.  I have actually enjoyed trying to put more vegetables and less meat into my diet.  For the first couple of weeks I noticed my energy was low.  I am not sure why but I think I might have been low in iron.  It seemed that went away after eating some Chinese leafy greens which I think are high in iron.  It might just be mental but I do feel more healthy.  That might also have to do with the fact I have been getting more exercise lately. 🙂