In Wild Goose Chase, Mark Batterson asks whether you are irresponsibly responsible or responsibly irresponsible.  I think many of us, including myself, would answer that we are irresponsibly responsible.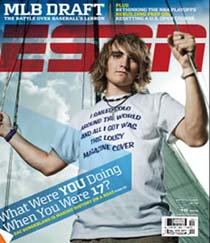 In the June 15 2009 issue of ESPN magazine, the cover story was about Zac Sunderland a 17 year old who is sailing around the world alone.  He started when he was 16 and should complete his trip at the end of June after sailing for over a year.  I think you could safely call that an example of responsibly irresponsible.
Zac is homeschooled and asked his dad when he was 15 if he could sail around the world.  He has "spent entire years of his childhood cruising up and down the Mexican coast."
What I love about Zac's story is how unconventional he and his parents are, how he pursued his passion and how his parents let him, in fact encouraged it.  What is really interesting is that everyone expects that this is a diversion, that he'll become conventional and do what everyone else does.
He had found that whenever he stopped … people hardly ever asked him about the places he'd been; they were more interested in where he was going.  And the funny thing was, most people, most strangers, assumed he would fall back into an ordinary life.  they assumed that, despite doing this one incredible thing, he would follow it by going to college and getting a job.  then he would retire, and then he would die; that was the accepted order of the universe…

… Zac imagined the days that would come next.  He probably won't be going to college.  "Adventuring doesn't need a degree," he says.  And he almost certainly won't work 9-to-5.  "I'm not sure I'd be able to do that anymore…"

He wasn't sure where he would go or how he would get there but he was starting to think he might dogsled across the Arctic Circle.
My hope is that my family, especially my children, will have the courage to be responsibly irresponsible.
Update 07-31-2009: On the morning of July 16, 2009 Zac Sundrland became the youngest person to sail alone around the world.