Fried Shrimp Galore
On the first night, Monday night, all I ordered was the fried shrimp appetizer.  The waiter tried to get me to order more but I wasn't feeling hungry and thought I'd end up eating a lot of the kids' leftovers.
The waiter warned me that the appetizer only has three shrimps but I said that's fine.  He then brought me five shrimps and said he would get me even more.  Then later he brought me ten more.  Pretty nice guy, Levente from Romania.
Ji Seon enjoyed her snapper filet.  Dylan had his favorite, baked potato with parmesan cheese since no other shredded cheese was available.  Victoria ate three hot dogs while Isaac had one.  All three kids enjoyed the french fries.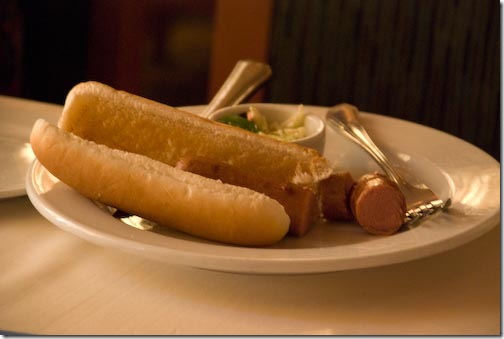 Grilled Lobster Tail and Tiger Shrimp
Tuesday night everyone ordered the grilled lobster tail and tiger shrimp.  It wasn't as good as fresh New England lobster but it's still always nice to eat lobster.  I also enjoyed my Indian roasted pumpkin soup.
Dylan ate his baked potato, Victoria had bow tie pasta, Isaac ate mostly french fries with some sliced hot dog.
More Fried Shrimp
Wednesday afternoon we went to the sushi bar before dinner.  It wasn't bad, I never had mackerel sushi before.
Later Isaac took a late nap because, which we didn't realize at the time, he was starting to get sick.  Since he wasn't awake when dinner began in the formal dining room I waited for him to wake up and the rest of the family went to the buffet cafe.
At the cafe I ended up again gorging on fried shrimps.  The first night's fried shrimps were smaller and had a batter coating.  These shrimps were bigger, somehow straightened, and had a breaded coating.
Indian Veggie and Seafood Pasta
Thursday afternoon we went to tea.  The desserts were good, especially the fruit tart, but we really did not want to eat too much.
Thursday night most of us ordered the crab cake appetizer.  Everyone enjoyed it except me, I never seem to like crab cakes but I always think I will.  I also ordered the wild mushroom soup.  Ji Seon asked me after why would I order mushroom soup and I told her this was much better than your plain mushroom soup, that it was thinner and much more tasty.
Then I ordered the Indian vegetarian plate and after a recommendation from my brother-in-law, the penne with shrimp, calamari and scallops.  I was hoping the Indian food would be good since the head chef is Indian and it was superb.  In fact I wish I could remember what exactly I ate since I have never eaten anything like it in a restaurant.  In fact the last time I ate something like that it was made by a friend.  The penne was also the best Italian seafood pasta dish I have had since the seafood linguine dish I ate at La Groceria in Cambridge, MA.  I went to that restaurant a few times after and never could find that dish again.  Maybe that's why they closed.