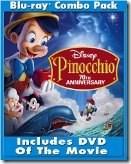 On Wednesday I borrowed from the library the Blu-ray DVD Pinocchio. I don't remember the movie since I only saw it once and that was thirty years ago and I was hoping the children would enjoy it.
It turned out that was a big mistake.  The movie is much darker than I expected, both visually and content wise.  None of the children were enjoying it.  Dylan, though he is the oldest, actually became the most frightened, I think because he understood the best.
As many of you might know, I have been studying and reading about modern slavery and was struck by how much of this animated film is about slavery!
First Pinocchio is duped by Honest John into joining a circus and becomes a slave of Stromboli.  Pinocchio escapes with the help of the Blue Fairy.
Then a few hours later he is duped again by Honest John.  He and many other little boys are led to Pleasure Island where they are transformed into donkeys.  The whole scene reminded me of young boys being sold into sexual slavery, transformed into prostitutes.
I honestly cannot recommend this movie for any young children, it's not fun, it's dark, and it's scary.  But if you want some good imagery for modern slavery, this movie is great.