It has been very hot the last couple of days.  Thankfully we have a family friend with a pool so on Monday when the temperature reached almost 100 degrees we and another family cooled off in this friend's swimming pool.
This summer we started swimming lessons for Dylan and Isaac.  Ji Seon did a lot of research and found in my opinion a miracle worker in Jim Malley at Kona Kai Swim and Racquet club.  Dylan and Isaac are in a class of just four students and one of the other students is Isaac's best friend, Elliott.
For some reason Dylan has just loved swimming and in just two weeks has gone from a boy who doesn't want to put his head under the water to someone jumping off diving boards and doggie paddling to his amazed and proud father.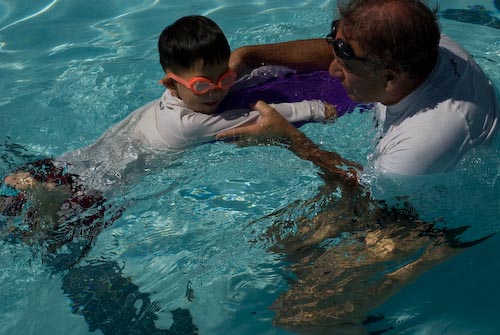 Isaac also has progressed a lot, especially considering his age but he doesn't enjoy swimming as much.  When we go to Elliott's house Isaac doesn't swim.  He prefers playing with Thomas Trains even when Elliott is swimming.  Dylan on the other hand swims almost nonstop until everyone else is out of the pool.
We are in the third week of swim lessons and there are six weeks in total.  I am looking forward to seeing how much more the boys will learn.  And next year Victoria will be taking swim lessons too!
I myself, inspired by Tom Yu, have been trying to learn how to do a back dive.  It's painful but fun.