Today our small group went to Lytton Gardens to spend a bit of time playing board games with seniors.  Originally our whole family was going to go but one of our closest family friends' son was having a birthday party so Ji Seon and the boys went to the party.
The last time I was in senior housing was when I was a teenager doing a paper route.  The regular paper route boy was away so they asked me to do his route which was in a local senior housing.  I remember being quite affected by that experience.  Some of the seniors looked so unhappy.  One person asked me if they could have a paper because he's so lonely.
My grandmother lived with us so the idea of senior housing was kind of foreign to me.  I am not saying it's wrong, I just wasn't used to it.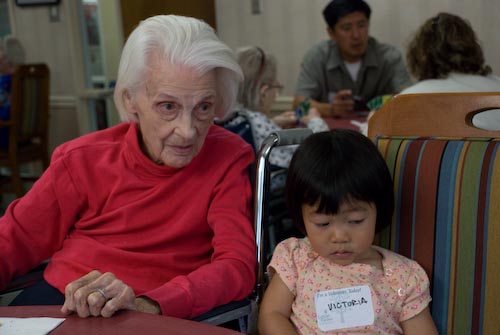 For ninety minutes our small group played various games with different seniors.  At my table Victoria and I and Audrey, who organized, and her children played Disney Yahtzee Jr.
with Helen.  We asked her some questions to learn about her life.  We learned for example that one day she and three others drove out to California from Pennsylvania and when they got here they decided never to go back.  But some of her answers seemed to contradict others.
Helen definitely seemed to enjoy Victoria who liked saying hi to Helen.  Having the children there was really great.  The children had fun playing games and the seniors enjoyed their company.  In fact it seemed everyone had a good time.
I think I might like to do this again.  Maybe I am thinking too much but as we get older it's interesting to face our mortality.