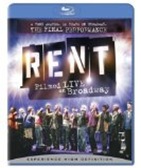 Sunday and Monday night we watched RENT: Filmed Live on Broadway Blu-Ray DVD.  I love RENT.
  You can watch an excerpt of this DVD here.
I still remember watching RENT at the Shubert Theater in Boston.  I found the experience moving and spiritual.  Some people would ask how can a musical about Bohemians be spiritual.  My answer is that the theme of this musical is love and you can't get more spiritual than that.
Watching the DVD was so fun for numerous reasons.
I felt like I understood the plot better.  Though we have the CD and have heard it many times it's still not the same as watching the musical.
It was great to see the close-ups and understand better what was being communicated in the expressions of the actors.
Subtitles really help to understand what is being sung during those pieces when more than one person is singing.
I felt this cast was actually better than the original cast.  This is not surprising considering everyone on Broadway wants to be cast in RENT.  When it was first cast they had a hard time finding anyone because it was off Broadway and written by someone no one heard of.
A few things surprised me when watching this production.
The set changed from what I saw in Boston.  It seemed smaller though I expected it would be bigger.
Mark and Roger's voices were a little smoother.  I thought they originally intended it to be rougher since this is supposed to be a "rock opera."
Mimi was not portrayed as sweetly.  In retrospect this makes more sense since Mimi is a drug addict stripper.
RENT is more sexual than I remembered and the close ups really emphasize that.  It takes away from some of the enjoyment of the musical, especially the middle one-third of it.
During the end of the musical when they sang my favorite song "No Day But Today" Mark projected his film, which consists of footage of his friends, all around the top of the walls of the stage for an incredible effect.  But in this version of the musical he just played on a small section of the wall.
Here is a YouTube video of "No Day But Today" from the RENT movie which I have not seen but I expect won't be as enjoyable as this DVD.  In fact watching this YouTube video already disappoints because the song does not seem as vibrant and they show Mark's film without showing the stage so it loses its effect.
And here is a YouTube video of "No Day But Today" performed in Korea. Interestingly enough it's all sung in Korean until the end when they sing the chorus "No Day But Today" in English. Based on that you know this was not performed in North Korea.