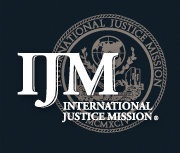 Almost one month ago, July 12, I saw an ad on Facebook for a temporary part-time web developer position at the International Justice Mission (IJM).  Though I was in the midst of getting a contract I still decided to apply because I admire IJM so much and wanted to build a relationship with them.  I contacted them and asked if I could fulfill this position remotely from my home in California and they said yes and to please apply.
On July 23 I had a forty-five minute phone interview and at the end of the interview the recruiter said hope your phone call with Brian Cress goes well.  I said "Who is Brian Cress?" and the recruiter said "Oh, forget I said anything."  (By the way, I didn't get the job.)
On July 27 Brian emailed me, introduced himself as the IJM West Coast Director of Development, said he was going to be in the Bay Area and wanted to connect with me.  We emailed and talked and I invited him to come to our home for dinner on Tuesday, August 4.
I asked Brian if he would like me to invite others and he said sure.  So I quickly invited via Evite over 50 people but I was not expecting many to show because of the short notice.  Later I realized people didn't come because I set the start time at 5:30 PM.  One friend wrote me and said "who gets off work at 5:30 =)".  A lesson learned for next time.
In the end a neighbor and her three children and a married couple we knew from Boston attended.  And the night was a roaring success.
Brian Cress is a large, friendly man who immediately disarms you with his engaging personality.  He is comfortable with everyone including the children.  For example Dylan enjoyed telling his array of silly jokes to Brian and Brian patiently listened to them all.
Because of his outgoing personality Brian ended up becoming the host for the evening and I think that is why everyone had a good time.  We first had dinner, mediocre Chinese food from a local restaurant.  I apologize Brian that the eggplant wasn't palatable.  My wife ordered it because I'm a pseudo-vegetarian. 🙂
After dinner we watched a short three minute video about IJM which is on YouTube.
Next Brian did a quick PowerPoint presentation about IJM and then we watched a longer video about what IJM has been doing in India.  Everyone had a lot of questions and were really engaged.
During this time I often find myself saying "Thank God for IJM" when I saw videos of people being saved from bonded slavery, sex slavery, police abuse, etc.  IJM is awesome.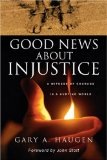 At the end of evening Brian gave everyone Good News About Injustice
by Gary Haugen, the founder and CEO of IJM.  I read the book a few years ago and reviewed it on my old blog.  Before I moved I gave it away and it's nice to get another copy.  Maybe I should give away this book to whomever leaves in a comment for this post the most compelling reason to present it to him or her (and who lives nearby).
Brian also gave me Gary Haugen's newest book, Just Courage
.  I'm quite excited about getting this book and am hoping to read it soon and to review it here.
In the end I think everyone had a good time.  Even Dylan and Isaac had a great time playing with the kids from across the street.  Here's a group photo from the end of the night.  The only ones missing are the neighbor's kids who were still upstairs playing with the Legos. 🙂