At the encouragement of my brother-in-law I started shooting all my photos in RAW on my Nikon D80.  Unfortunately this meant that each photo I shot was larger than 10 MB.  My MacBook has only an 120 GB hard drive so it didn't take long to realize I was going to run out of hard drive space.
The day of reckoning soon arrived when I noticed after my latest download of photos that Lightroom began to be noticeably slower.  This is either because Lightroom could not handle the added number of photos or because it needed more disk space.  I guessed it was the latter and this article seems to verify this.
I consulted my two experts in the hard drive field and was conviced not to buy Seagate which I had always thought was the best.  I apologize if I recommended Seagate to any of you.  The reviews on sites like Amazon and Newegg confirmed that Seagate is not as reliable.  Western Digital was recommended to me because they tend to be more conservative by using proven technology and not pushing the performance envelope.  The online reviews seemed to confirm that Western Digital was the way to go.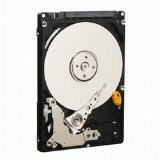 After more deliberation I ended up purchasing the Western Digital 320 GB Scorpio Black SATA 7200 RPM 16 MB Cache Bulk/OEM Notebook Hard Drive WD3200BEKT.  I don't know when Amazon began selling hard drives but I think Newegg, TigerDirect and others are in trouble because Amazon matches their best prices and they give free shipping so it's a no brainer.
Unfortunately during my deliberation the price had gone up from $70 on Black Friday to $76 when I purchased it.  And now it's $82 which is $1 less than the list price.  I am not sure what is going on but hard drive prices in general seem to be going up.
Anyway the hard drive arrived on my birthday and I could not wait to install it.  I started following the excellent instructions at iFixit for installing a MacBook Core 2 Duo Hard Drive Replacement and was almost done when I realized on the second last step I needed a T8 Torx screwdriver.  Sadly I undid everything and sent an email to my hardware hacker friend for help.
The next day hardware hacker came through with not just a screwdriver but a screwdriver set!  Last night I resumed my project and replaced my old hard drive, a Fujitsu MHY2120BH 120GB 5400 RPM 8MB Cache 2.5″ SATA 1.5Gb/s Notebook Hard Drive, with the new one.
Before removing my old hard drive I did a Time Machine backup and thought it would be a simple matter of restoring the backup to the new hard drive.  Unfortunately like another birthday boy it did not go as smoothly as I hoped.  According to Apple's Mac OS X 10.5 Recovering your entire system document when I booted from the Mac OS X Install Disk I should have seen a Restore System from Backup option.  However it was not there!
I did what the other birthday boy suggested and installed Mac OS X on the new hard drive.  When it was done and it rebooted I realized it had installed Tiger instead of Leopard.
I then put in the Mac OS X Leopard CPU Drop-in DVD for upgrading from Tiger to Leopard.  I double-clicked on the Install Mac OS X icon and when it rebooted I was able to restore my system from my Time Machine backup.
In retrospect I wish I had purchased a USB SATA hard drive enclosure and used SuperDuper! to clone the old hard drive like iFixit instructs.  That would have saved me a lot of time!
Now I have 320 GB to play with.  That should last me hopefully one to two more years unless I get into video. 🙂
Update: Lightroom is still slow. 🙁