At the start of every international hockey tournament I am always worried.  Canada is always the favorite or one of the favorites but so often Canada disappoints.  Maybe my expectations are too high since disappointment means not winning it all.
I remember how Canada finished fourth at Nagano in 1998 and I felt so bad for Gretzky because he never won a gold medal.  I remember Canada losing the first World Cup in 1996 to the United States because Mike Richter stood on his head stopping everything.  In 2002 though the curse seemed to be broken as Canada won the gold and I loved that team and watching Gretzky, the architect of the team, celebrate from his box.  But then Canada finished 7th in Torino in 2006.
Canadian athletes also in general seem to not be the type that rise to the occasion.  They seem to be almost too polite, sympathizing with their opponent, being embarrassed about winning too much.  This is unlike American athletes who seem to love overcoming all obstacles, winning no matter the odds.  It's Canadian politeness vs. the American dream.
But in these Olympics Canadians no longer are the polite hosts, allowing others to win on their soil.  Canada, who had never won any gold medals at home, suddenly won the most of any country and broke the record for most gold medals in the Winter Olympics.  It was stunning.
Despite this apparent change I was still so worried about this game.  Maybe it's because the thought of losing to the U.S. would be more painful than losing to anyone else.  Even though I consider myself mostly American when it comes to hockey I'm still a little Canadian boy playing street hockey all day with the neighborhood kids.
I was hoping that Canada would score quickly, put the U.S. back on its heels, and continue to press and hold onto win, outshooting the U.S. 2 to 1 with Ryan Miller stopping practically everything.  The game seemed to go as planned with Canada getting the first goal.  But the U.S. was going toe to toe with Canada, Canada was not dominating.  Canada then got the second goal and I felt good.  But then Canada started playing conservatively and I remember thinking that's a bad idea.
Soon the U.S. scored on a goal that was not an easy one to stop for Roberto Luongo but something I thought Ryan Miller could have stopped.  Canada then started pressing the attack again and I thought maybe it's good the U.S. scored.
This pressure continued for the first five minutes of the third period but then the U.S. began dominating.  I was just watching the clock, wondering why hockey teams use such a strategy to protect a lead, wishing it would reach the twenty minute mark and worrying because Luongo wasn't looking sure-handed.
Then with 24.4 seconds to go Zach Parise scored and I was deflated.  I was thinking "Now I won't be able to go to church." (The service had already started.)  I was also thinking please don't let it go to a shootout, I just hate the concept of anyone winning that way.
I thought overtime was kind of gimmicky, 4 on 4.  I was hoping that would be in Canada's favor but the U.S. was playing well.  Sidney Crosby rushed in and tried to break through two defensemen but got stopped.  I remember thinking how Sidney hadn't really done anything in the last two games, not judging him for it, just observing.  Then he got that break and shot it past Ryan Miller.  I couldn't believe it, I thought it was impossible to score on Ryan Miller unless he can't see it.  But I thought how appropriate that the symbol of Canadian hockey should score the winning goal.
I was screaming and jumping up and down until I became hoarse.  No one was home except Victoria upstairs playing Dora on the computer.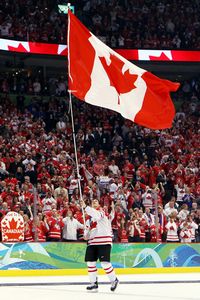 Now I am debating whether to go buy the Canadian Olympic hockey jersey.  Would it be too brazen wearing it here in the U.S.?  Whose name should be on it?  Sidney Crosby?  Joe Thornton (San Jose Shark)?  Alan "Goliath" Kwok?  Vincent "Ping Pong" Wong?  Are there any Christians on the team?
One cute family note.  Isaac likes to know who to root for.  When I was watching the first Canada vs. U.S.A. game he asked if I am rooting for the red team or the blue team.  I said the red team so he started cheering for the red team.  Then he realized the blue team had the U.S.A. flag so he started cheering for U.S.A.  Dylan said he'll keep cheering for the red team.  Then they asked Ji Seon who she is rooting for and she said she doesn't really care who wins but knows that I really care so she will root for Canada too.   I actually want them to root for the U.S.A., it's their country and it should be mine but hockey is Canada's game.
You can see the video highlights of Canada's win here.