Now that is about time to start the 2011 fantasy baseball draft I thought I would look back on my 2010 draft.  Every season I have drafted poorly and unfortunately last season was no exception.  I actually thought I had a very good draft but a mix of bad luck and questionable valuations led to another failed draft.  Fortunately I still won the league.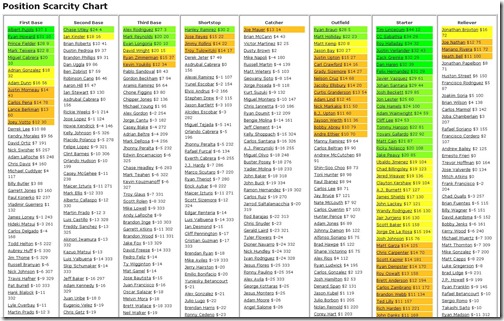 My 2010 Position Scarcity Chart – it wasn't very good
Round 1
I disliked my #6 slot and tried to trade to a different position right until the draft started.  I thought having the #1 or #2 pick or a bottom pick would be optimal.  I really wanted Tim Lincecum but didn't want to pay a high pick for him.  Or I was hoping to get Tulowitzki and Kinsler with my first two picks.
As it became my turn I agonized for hours about whether to take Utley or Lincecum.  I finally chose Utley and it turned out to be disastrous because:
Utley had a major injury in 2010.
When healthy Utley had a below average season.
Lincecum though would not have been that much better of a pick.  Though he was solid he was nothing compared to 2009.  And throughout the season I was able to find reliable free agent starters.
If I was to do it again I still would have taken Utley.  Everyone who gave me unsolicited advice told me to take Utley.  It was just bad luck he had such a poor season.
Round 2
I was targeting getting a shortstop, most likely Reyes, and was surprised when Kinsler fell to me.  One person sent me an IM saying it was a no-brainer.  I took Kinsler pretty quickly.  However Kinsler ended up having a disastrous 2010 for the same reasons that Utley did.
If I was to do it again I would have taken Kinsler again even with his injury history.
Round 3
I was hoping Reyes or Rollins would fall to me but they did not.  Jason Bay was by far the highest rated batter left.  I was concerned about his move to the NL and Citi Field but thought his five category potential was too much to ignore.
Immediately afterwards a Red Sox fan said that was a terrible pick and he turned out to be right.  I knew Bay would have less power but I did not expect 6 homeruns.  Also did not expect him to have a concussion that would wipe him out for the rest of the season but fortunately I had traded him at that point.
If I was to do it again I may have taken Ryan Zimmerman or Kevin Youkilis.  3B was shallow last year as it will be this year and I struggled for most of the season to fill my 3B slot.  My hope was that someone like Sandoval would be available in the 4th round.
Round 4
I was hoping there would be a good 3B available but when there wasn't I took the next best player available in my opinion, Nelson Cruz.  This pick turned out to be decent.  Nelson Cruz was one of the best players per at bat.  However he only had 399 AB's.
Round 5
I wanted to continue taking batters though at this point starters were looking like very good values.  I needed a 1B so I took Derrek Lee who was just awful.
Immediately after my pick I regretted it because I realized Brandon Phillips was still available.  A 2B with almost as much value as a 1B is much more valuable, even if I already had 2 2B already.  If I was to do it again I would have taken Brandon Phillips.
Someone suggested that I take Adam Wainwright.  I stupidly responded that I did  not believe in him.  If I had taken a starter I would have probably taken Javier Vazquez or Josh Beckett which would have been disastrous.
If Brandon Phillips wasn't available and I was to do it again I would have taken Adam Wainwright.  Maybe this is a good round to take your first starter but you had better be sure he will be an ace.
Round 6
Continuing my strategy to only take batters I took Carlos Lee.  I was actually not that high on him, thinking he was kind of old.  However I did not expect him to be there in this round so I took him.
The person who had suggested Adam Wainwright to me in round 5 also suggested Carlos Lee.  He was not happy to see me take him in round 6 because he realized that if he had not said anything he might have grabbed him in round 6.
Regardless Carlos Lee was awful.  If I was to do it again I may have taken Josh Hamilton.  Obviously that is easy to say in hindsight but maybe for my 3rd OF I should be looking at upside.
Round 7
This was my last round to take a batter.  I took Hunter Pence and immediately after regretted it, wishing I had taken Bobby Abreu.  I consoled myself by the fact that Hunter Pence is much younger.
Turned out this was only my second good pick of my first seven.  However Abreu also had a pretty good season.
Round 8
Now I started taking starters.  It is interesting to note that soon after my pick a lot of closers began being taken.
I took Jake Peavy and overall he was bad.  He started turning around his season and then tore his shoulder.
I actually was eyeing Ubaldo Jiminez and Ricky Nolasco but they were taken just before my turn.
I had concerns about my #1 starter being someone injury prone and pitching in a small AL park.  Turns out I was right.
I am not sure what I could have done otherwise.  Maybe waiting this long to get a #1 starter was too long.  In hindsight I could say I should have taken Carlos Gonzalez but I had no idea.  Maybe I should have taken a closer.
Round 9
Stubbornly continuing with starters and ignoring closers I took John Lackey.  I didn't love his move to the AL East but I trusted the Red Sox knew what they were doing in signing him.  Turns out I was wrong.  In fact I became so alarmed by his spring training numbers that I traded him before the season started for Brett Anderson.
If I was to do it again I think I would have taken a closer anticipating there would be a run, probably Brian Wilson.  But Brian Wilson was the last guy left in this tier and I think I would have preferred grabbing closers from the next tier.
Or I could have taken Brett Anderson so I wouldn't have had to trade for him.
At this point the draft becomes really hard.
Round 10
Another starter, this time A.J. Burnett.  This was a case of my valuations overvaluing K's and undervaluing WHIP.  I realized this mistake much later in the draft.
Not sure whom I would have taken instead.  Maybe Roy Oswalt.
Round 11
Roy Oswalt was probably my second best pick of the draft.  He became my ace and was phenomenal after he was traded to the Phillies.
Round 12
Ryan Dempster was my last starter and a decent pick.  His K's were higher than expected but so were his BB's.  A pretty decent #3 starter.
Rickie Weeks was taken in this round, probably one of the best picks of the draft.  However I would never have taken just because I already had two 2B.
Round 13
Geovany Soto had just been taken so I thought there would be a run on catchers.  I took Russell Martin who was horrible.
This was in the midst of the second closer run.  In hindsight I should have taken a closer like Carlos Mármol.
Round 14
Almost all the closers were taken at this point so I reluctantly took Bobby Jenks.  As I feared Jenks was fat and bad.  He actually wasn't as bad as his numbers looked, he just had bad luck.  Still he drove me nuts because he kept losing his job.
In this round Adrian Beltre was taken.  In hindsight I should have taken him because I needed a 3B but I felt like I had to have a closer.
What's funny is I could have had Beltre.  I originally asked for Billy Wagner, not Jenks.  The next team's owner then announced he wanted Adrian Beltre.  When I found out Billy Wagner was taken I could have taken Beltre who I had been eyeing.  In the end I am glad I didn't because that would have just caused weird feelings all season between that team's owner and me.
Round 15
I had been eyeing Garrett Jones for awhile because of his speed and power and the fact he would be hitting third or fourth for the Pirates.  I felt like a genius when he hit 2 HR's on opening day and another on the second day.
But then he went downhill.  I should have taken Leo Nunez but Eric Karabell scared me about him.  Leo had a pretty good season and was the last surefire closer.
Round 16
I took Dice-K hoping for a repeat of 2008.  Again I made a mistake overvaluing K's and undervaluing WHIP.  He was a pick I regretted soon afterwards like A.J. Burnett.  Not sure whom I would have taken instead.
Round 17 – 20
JJ Hardy was just taken so I took Jhonny Peralta, the last decent SS.  He was pretty bad.  SS is a tough position and I did not have a good SS until I picked up Infante in August.
Next I took Drew Stubbs for his speed and potential power.  Too bad he was terrible for me so I dropped him.  Turned out to actually be a good pick but unfortunately someone else enjoyed him.
Then I took Vernon Wells which was my best pick of the draft by far.  I read reports that he was feeling healthy and that his wrist had strengthened.
Round 21 – 26
The last rounds are just crapshoots.
Mark DeRosa because I needed a 3B.  He was hurt all season.
Homer Bailey because I always liked him.  He was terrible and didn't turn it around until the end of the season, long after I dropped him.  Should have taken Kevin Gregg but I thought he wouldn't get the job.
Kevin Kouzmanoff because I thought he could hit 25 HR's.  I was wrong.  Should have taken Brett Gardner but was worried about his playing time.
Luke Gregerson as a backup closer.  Hoping that Heath Bell would be traded which never happened.
Jermaine Dye because I was hoping someone would sign him.  Never happened.
Marc Rzepczynski was a trendy sleeper and a Blue Jay.  He got hurt in spring training and really never recovered.
Elijah Dukes was my final pick.  Soon after he was waived by the Nationals and never picked up by anyone else.
Conclusion
I had a pretty awful draft and I am not sure how I could have done better.  Some possibilities:
take more closers
have better projections
stay away from AL East starters
fill scarce positions earlier
In the end there's a lot of luck in the draft.