Funky Kimchees continue their winning streak of consecutive championships which dates back to 1986-87.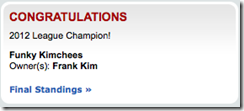 Last season I entered two ESPN public free fantasy baseball auction leagues. The first league I won but the second league I dominated. This league's auction was two weeks into the season so I just bought all the hot guys and rode them to an easy victory.
This season I wanted a little more competition again so I entered one of my friend's church's league. Turned out this season was one of the most dominant I have ever had and it was simply because of one man, Mike Trout. The day Mike Trout was called up I had just picked up Scott Downs. The guy who wanted Scott Downs and missed picking him up by two minutes later picked up Mike Trout just before I could get him. We then traded the two guys which was actually his suggestion. I asked for Tim Hudson because I didn't expect he would want to trade Mike Trout. At the time I thought Mike Trout's floor was Alejandro De Aza and his ceiling was a potential All-Star. But I never expected one of the greatest fantasy seasons ever.
At one point my outfield was Mike Trout, Ryan Braun, Matt Kemp, Jacoby Ellsbury, Hunter Pence which on paper sure looks awesome. I actually end up dropping Hunter Pence soon after he was traded to the Giants and trading Jacoby Ellsbury for Adam Wainwright.
My final roster kind of looked like this but not exactly because I made so many transactions, 854 to be exact.

I was way ahead in the standings and at one point had 107 out of a possible 110 points. My goal was to win every category which I have never done before but I actually went down a little. One pattern of my teams is they almost always seem to swoon in the last couple of weeks.
Anyway it was a fun and pretty stress free season. Matt Kemp busted out in April and then I rode Mike Trout the rest of the season while also enjoying Ryan Braun. As for starters Brandon Beachy was awesome but then he went on the DL but was resurrected as Kris Medlen.
Now I'm looking forward to receiving my first place prize, an authentic Jeremy Lin Houston Rockets jersey. Should I get red or white?